The Dhira Yoga Center is home to a community of practitioners who come together to breathe, focus, build strength, cultivate peace and have fun. We do this primarily through Vinyasa (flow) Yoga Classes. Our classes can be taken In Studio, Livestreaming, On Demand and during warm months, outdoor classes are offered. We welcome beginners, as well as seasoned yogis, to our classes. Teacher Trainings are offered twice a year, beginning in April or September. We also offer a Mentorship Program for advanced practitioners and/or yoga teachers who want to refine their teaching skills. Three courses on classic yoga texts are offered annually. Practice is disciplined, challenging and nurturing to all levels of practitioners. Our approach is lighthearted and playful. Community is the heart of the Dhira Yoga Center.
Expires 30 days from date of first class taken.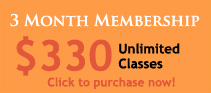 Expires 3 months from date of first class taken.
Expires six months from date of first class taken.
Expires 30 days from date of first class taken.
---
Testimonials
"Michael's classes are challenging and fun. He is able to gently push me to find peace in poses I felt at the time impossible. He lit a fire in my heart that first day I took a class that has been burning ever since. I have been to class five days a week for years after that day. I've learned that yoga is so much more than stretching. I have met some of my closest and dearest friends in those classes. My aching back has disappeared and I was soon able to do a full wheel with ease. I put my side braid right into my mouth doing a wheel and Michael calls me a "yoga pirate." Mind, body and soul healing is what these yoga classes do for me. Classes at Dhira leave you feeling connected to your self, your community and the universe. Laughter flows with the vinyasa flows. If you give Dhira a try, you will leave with a huge smile across your face and heart."
Katie B.
"Wonderful teachers, welcoming atmosphere. There is something here for every level, whether you're looking to try something new, or if you're an experienced yogi looking to expand your horizons."
Ashley R.
"Dhira Yoga Center feels like home. Michael is so welcoming to all who walk through the door. A funny and peaceful man who opens the hearts and minds of each of his students. Be it your first time doing yoga or if you've practiced for many lifetimes, you have a place at Dhira Yoga Center."
Surya Tish
"Dhira yoga is a hidden treasure in Southwick! Studio owner Michael is an amazing guy. Not only is he an experienced & talented Yogi, he is such a welcoming, inspiring & wonderfully quirky guy. He makes me smile every time I see him in class or currently via Zoom lessons. There are practices & modifications for all levels of skill & everyone I have encountered at Dhira are always so kind & friendly. When you visit the studio, your body, mind & soul feel uplifted! Namaste!"
Christina P.
"Dhira Yoga Center is a welcoming place offering classes for all levels. Michael leads an invigorating class and is able to modify to all levels, whether that means providing a simpler variation of a pose or a more challenging one. He makes a point to see where you are in your practice and tailors the experience to the students in each class. The studio has a calming atmosphere, but I also love having the opportunity to practice outside as we head into summer."
Gina C.
"Dhira Yoga Center is a welcoming environment for all! If you've never practiced before or if you're an experienced pro, there's a class for you. You're encouraged to take each class at your own pace and everyone in the class is always warm and encouraging, especially Michael. I'm happy that Dhira has been a part of my life for the last 6 years!"
Danielle B.
"Dhira Yoga Center, under the leadership of Michael VS, has provided my wife and I a great place to practice our yoga. Michael offers such a pleasant and fun approach to the practice. We have learned much in our five years with Dhira Yoga, and look forward to many more. Michael has taught me to breath properly and relax my mind during practice. He is very careful to remind us to just do poses within our own comfort zone. Dhira has been such a great experience in our busy lives that we consider Michael and our 'regulars' on Thursdays to be good friends. I highly respect Michaels vast knowledge of yoga and recommend everyone give one of his classes a try."
Robert H.
"I began my yoga practice at Dhira in 2012. Now living in AZ and am still practicing at this studio. (virtual world is fantastic). Great intro and flow classes. Instructors have a wealth of experience. Philosophy courses are also wonderful for anyone interested in deepening their practice."
Marybeth K.
"Some people go to a yoga studio for an experienced teacher. Or a lovely facility. Or friendly fellow students. Or classes that meet their needs. With Dhira you will get all that and more. The options of outdoor yoga or online via Zoom have been great during social distancing. The studio is ready and waiting for us when things change. Don't hesitate to book your class at Dhira. You won't be sorry."
Rose G.
"Michael leads a great class. He spends time to explain the meaning of poses and ensure you have the correct alignment. He can offer many different variations of poses for people of different levels(beginner, intermediate, etc). I highly recommend any of his classes for yogis of any level!"
Ashleigh T.
"Dhira is a community for yogis and yoginis of all levels of practice. The main principle is simple: yoga is fun! The teachers are attentive to the students' needs. They readily accommodate any medical issues the students may present. Owner Michael welcomes any questions you may have about yoga. A welcoming community of loving-kindness."
Joanna G.
"Been a member at Dhira for a couple years now and I can't get enough! Friendly environment, meticulously cleaned gym, and welcoming host make for an unforgettable Yoga experience you're sure to get hooked on! Highly recommend!"
Luke C.